For many businesses, philanthropy and corporate social responsibility are far removed from their operations and profit centers. And it's not surprising. Most ventures are launched with a profit-driven purpose in mind and only once they are successful do they turn their attention to the idea of "giving back." Though well intentioned, there isn't usually a strong connection to the purpose of the business. The social responsibility is an afterthought.
But the real magic comes when a business can tightly integrate its operations and its philanthropic efforts from the earliest stages… when purpose, philanthropy and profit are integral to one another.
Graphic Recording courtesy of Heather Willems
This week, BrandFoundations had a chance to see that approach up close when we hosted the latest Conscious Capitalism NYC event at City Winery. This installment of the chapter's "Business as a Force for Good" series featured a fireside chat with JP and City Winery's founder Michael Dorf.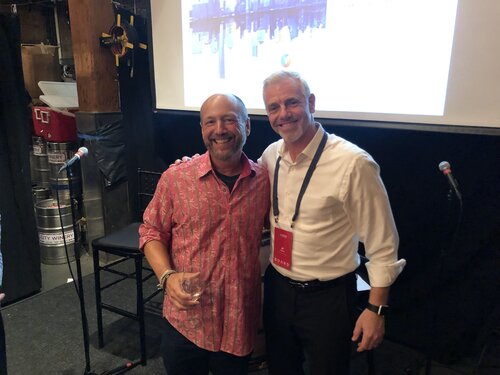 Michael is a legend in the live music scene having founded NYC's go-to venue for independent music, the Knitting Factory, in 1986. He helped bring the concert house to global prominence by expanding via tours, branded festivals and record production/sales. But from the earliest days, Michael also held benefit concerts, including a series at Lincoln Center.
By 2008, Michael had conceptualized a venue that brought his love for wine — both making it and enjoying it — under one roof and created City Winery, Manhattan's first fully-functional winery offering a wide selection of wines, exquisite cuisine and intimate performances from iconic performers.
True to form, Michael ensured that purpose and profit were intermingled at City Winery where, according to The New Yorker, he has "perfected the art of the tribute concert." Over 13 years, the series has honored legends like Aretha Franklin, Leonard Cohen and Prince while raising more than $1.5 million for music education programs such as the American Symphony Orchestra's Music Notes, Church Street School for Music and Art, and Young Audiences New York to name but a few.
In our fireside chat (captured in unique "graphic recording" format by the wonderfully talented Heather Willems at TwoLine Studios), Michael shared additional ways in which City Winery operationalizes the tenets of Conscious Capitalism, including:
Serving wine through an innovative tap system that reduces bottle waste
Creating "pop up" locations to keep staff employed rather than shutting down while they moved to a new location
Holding their annual leadership meetings in locales such as New Orleans or Puerto Rico and making volunteer disaster-recovery work part of the agenda. He also has also brilliantly branded these meetings as "Base Camps" (which supports the idea of moving ahead) rather than "Retreats" (moving backwards).
Michael describes his integrated purpose and profit approach as "Selfish Philanthropy." Taking the company's core competency – in this case, experiential events and spaces – and willingly giving them away for philanthropic efforts, causes or organizations (including Conscious Capitalism). The "selfish" part comes from the fact that it generates massive goodwill in the form of external brand awareness and internal cultural engagement and pride. And it has the power to transform work into a passion you'll want to do every day of your life.
For more on Michael's philosophy check out his new book "Indulge Your Senses: Scaling Intimacy in a Digital World"
If you'd like to learn more about how to become a conscious business, download this diagnostic assessmentand share with your leadership team. Then contact usto learn about ways to enhance or capitalize on your results.